SPIRITUALITY vs. RELIGION
Are they one and the same?  I would say yes and no.  How's that for commitment?
They are the same in that they can represent an individuals search for meaning, for direction, for a connection with something, anything higher than ourselves.  The debate on their differences is wide spread, spirited, and at times down right hostile.  Honestly, the only discovery I made in my research thus far is that I have much more to research.  It is very likely that said research will take the balance of my life and may very well never lead to any final "ANSWER".
"God made so many different kinds of people.  Why would he allow only one way to serve him?"  ~Martin Buber
That process and search is my "religion" or "spirituality" – I don't really care what you call it or how you define it.  Mine is a religion of continuous learning, continuous improvement, competition with my current self to be my future self, and tolerance for all others and their beliefs.  Tolerance spanning from the most dogmatic of the worlds major religions to the free spirited granola eating hippy throw back from the 60's.  Provided your beliefs in no way entail harming or forcefully compelling another to think your way – HAVE AT IT!  I truly believe in many ways they are all "CORRECT" with different paths to the same goal – a purposeful life.
"All religions must be tolerated… for… every man must get to heaven his own way."  ~Frederick the Great
Is it acceptable for you to communicate or even preach your beliefs.  ABSOLUTELY!  Preach it from the mountain tops my brother or sister.  There may be some one lost, hurting, or needing direction that you can help.  You may have the right path for that someone.  But do so in a compassionate way and be conscious of when you may be going too far or too long.  When I first launched this blog I received a call from a family member that said something to the extent of "What you have built is really amazing, you have almost made your own religion."  Well, that is not my intention in any way.  I am just sharing my own journey and hope to help and learn from others along the way.  There are no rules, right way, and certainly no expectations.  She then proceeded to share her faith in Christianity and how it had helped improve her life.  Her sincerity and caring was evident in every word.  She was truly concerned for my well being and future.  She didnt push too hard or far and in the end left the next steps up to me.  PERFECT!  That is how it should be done.  I could trust her sincerity and take her words to heart.  That isn't always the case when someone shares their beliefs. (If you are reading this, thank you for your care and concern.  I do appreciate it.)
"I believe in God; I just don't trust anyone who works for him."  ~Author unknown
Back in my Army days and immediately following I would meditate almost daily.  The mental clarity and happiness that meditation brought me is sorely missed.  Civilian life, family, job, house, etc somehow stopped that from happening.  Its time to bring that back into my life along with a more focused journey to read and learn about the many paths being followed to a purposeful life.
"This is my simple religion.  There is no need for temples; no need for complicated philosophy.  Our own brain, our own heart is our temple; the philosophy is kindness." ~Dalai Lama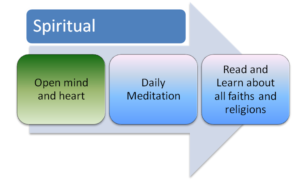 So here are my goals for the Spiritual point of focus.  I will update my progress here.  As I drafted this post I realized that this point of focus was actually closer to convergence than I orginally thought.  Just by having an open mind and heart this point is actually at the first ring of the target.
What are you thoughts?  Do you define religion differently from spirituality?  Is your mind and heart open?