People with goals succeed because they know where they're going. ~Earl Nightingale
The Journey Ahead: 2017
Goal Setting
You just predicted your future for 2017 in the last step. As you read over your writing, the goals for this next step should be very apparent. In this step we will set 3 goals for each Convergence Point. We start with 3, if we complete and maintain them we can certainly add more later. Remember Omne Trium Perfectum.
If you are just joining us you may want to start HERE first and then follow the steps (posts) in order. It's never too late to start planning The Journey Ahead regardless of the date.
Before you start setting your goals for 2016, take another quick look at how you did in 2016. How did you rank yourself in each Convergence Point? This should help you set your goals and focus for 2017. Here is how I ranked myself. I have bounced back and forth between being a little disappointed in myself and realizing that I am my own greatest critic. I use a scale of 1,3, or 5 with 1 meaning not so good and 5 meaning rocked it.
Health Ranking: 3 – Bit of a roller coaster. Need clear goals and discipline.
Family Ranking: 1 – Not enough time and focus spent on family.
Social Ranking: 1 – Borderline recluse unless work related.
Spiritual Ranking: 3 – Major strides in the last quarter of 2016. Keep it up and increase.
Personal Development Ranking: 1 – Unfocused. Need clear goals and discipline.
Giving Ranking: 1 – Untracked. Unfocused. I gave but to where and when?
Career Ranking: 5 – Fell into the workaholic trap. Team is phenomenal. Keep momentum but identify the asymptote area where added time is not providing equal value. Delegate more!
Financial Ranking: 3 – Save more! Stick to Budget! Need everyone on board.
I will start with the areas ranked 1, spending more time on those both in this planning exercise and possibly in executing on those goals. Each area still gets 3 goals for the year but some of the higher ranked areas my have goals revolving around maintaining that ranking vs. improving. The overall goal is balance that will ripple through all areas.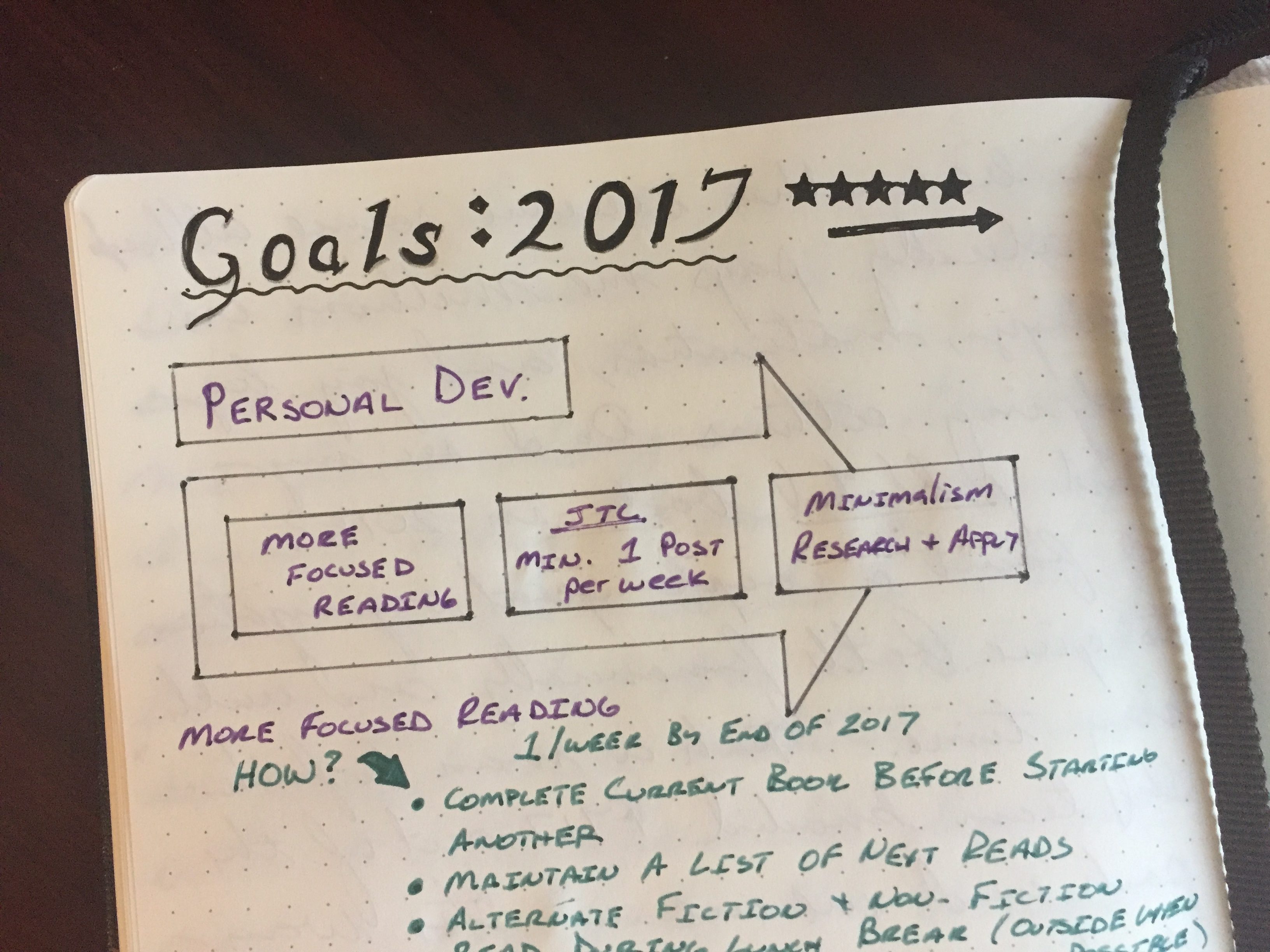 So get started! Write down 3 goals for each Convergence Point and then write exactly how you plan on achieving those goals. Yes, your plan needs a plan. I'll be sharing more detail on that in future posts. Just make sure you list a couple steps or changes you are going to make in order to achieve the goals you are listing.
I write this all inside a new journal. If you are looking for a worksheet to complete this in you can download it FREE HERE.
Here is an example of my goals and plans for Personal Development:
More Focused Reading
I have formed a bad habit this past year of jumping into a new book before finishing the one I was reading at the time. I must have 10 or more unfinished books laying around. By the end of 2017 I want to be reading 1 book a week. I know I can't jump to that level right out of the gate so I am going to start with a minimum of 1 per month and see how I can increase that over the course of the year.  In order to accomplish this goal I will have to:
Complete current book before starting another.
Maintain a list of "Next Reads"
Alternate Fiction & Non-Fiction
Read during Lunch Break (Outside when possible)
#MYJTC: Minimum of 1 Post per Week
After over 3 years of no posting, I have been posting almost every day the last few weeks. I know I won't be able to keep that pace up. It is only the holidays and vacation time from work making it possible right now. My goal for 2017 is a minimum of 1 post per week or 52 total for the year. I might be able to beat it but that is my realistic goal at this point. In order to accomplish this goal I will have to:
Just Do It! Prioritize and Schedule it. Everything is a trade off.
Create ahead when possible. Build drafts of future posts when in a focused writing mood with time available.
JUST DO IT! Prioritize and Schedule it. Everything is a trade off.  It needed more emphasis.
Minimalism: Research & Apply
This past holiday season really put a bad taste in my mouth with the amount of "STUFF" that clogs our life. We will be looking to downsize and move this year and I would like to apply a great deal of minimalism to both the house hunt and what we put in that house. In order to accomplish this goal I will have to:
Just Do It! Prioritize and Schedule time to research.
Kill 2 Birds with one stone – Read about Minimalism.
Kill 2 Birds with one stone – Post about Minimalism.
Just Do It! Prioritize, Schedule and Apply!
That's it for this step. Identify 3 goals for each area and the steps you will take to accomplish them.
STEP 5 DONE! Tomorrow we wrap it up with a summary for The Journey Ahead: 2017.