FULL CIRCLE
Here we are are full circle around the "points of focus" on the first "convergence target" in my Journey to Convergence with the last point – Personal Development.  Its only fitting that this post be titled nearly the same as my first true post back in January.  It has been 15 weeks since that first post and its already been quite a journey with some big wins and of course some challenges along the way.  The biggest win is this post today, completing the circle with an even stronger resolve to continue the concept and journey.  I have connected with some great people all over the world and built deeper relationships with friends and family.  That alone is worth the time and energy.
THE JOURNEY THUS FAR
22 posts in 15 weeks – not too bad.  I did fall short of completing one point of focus per week as I had committed in Next Steps which obviously means I fell short of meeting that plus an additional post each week as committed in No Excuses.  I could give a 101 excuses on why I missed those goals but they don't really matter.  What matters is that I have stuck to it (even if at a slower pace than hoped).  I have a new personal record at 22 posts.  I continue to battle the Lizard Brain and all his attempts to keep me average.  So I overstretched a bit on what I could actually make time to complete.  Learn and move on!
I am amazed at how few Leadership posts I have made.  It is the area where I believe I bring the most value, experience and understanding to the table.  They might become more frequent now that I have completed the foundation of working around the convergence target but since this is primarily my journey and learning experience it is an area I am less likely to be seeking knowledge on.  NO, I am not saying I am perfect and have nothing to learn.  There are just much higher priority areas for improvement in my JOURNEY.  THATS THE WHOLE POINT!  Time and energy are not infinite so you have to prioritize where you expend both.
My subscriber list has over tripled since the Write Here, Write Now post.  The offer still stands but you better hurry up I am getting close to that one million mark.  Only 999,962 more to go.  At the end of the day I value every single one more than you can imagine.  I was honored to have my good friend Lou as my first guest post.  I would absolutely add that to the list of things that made this worth the time and energy.
So "Personal Development" is the last point of focus needing goals.  The JTC project in its entirety actually spells out the personal development goals with one exception.  I need somewhere to capture my burning entrepreneurial spirit and goals in that area.  Here is a great list I found on Wikipedia defining personal development.
Improving self-awareness
Improving self-knowledge
Building or renewing identity
Developing strengths or talents
Improving wealth
Spiritual development
Identifying or improving potential
Building employability or human-capital
Enhancing lifestyle or the quality of life
Improving health
Fulfilling aspirations
Initiating a life enterprise or personal autonomy
Defining and executing personal development plans
Improving social abilities
I think I have the list covered in JTC.  Now I just have to keep working each area – "Competing with my self to become my future self!"  I do have a seperate project underway that would cover the entrepreneurial aspect of the personal development point of focus.  I am not ready to share much detail on it but will do so as I get further along.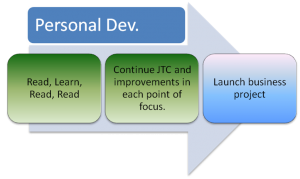 The image to the left depicts my goals in the Personal Development point of focus.  I will update my progress here.
Have you started your own journey?  What are your goals?   Are they prioritized,  focused and balanced?