The Journey Past: 2016
How Did I Do?
During this next step of the process we are going to look at the goals we set for 2016 within each Convergence Point and rank how we did? How did you do compared to what you wanted to do? I use a 1,3,5 scale:
1 – Not so good, probably quite a few goals that are going to need to carry over to 2017.
3 – Not too shabby, I didn't necessarily complete everything planned or didn't move the needle as far as I wanted but definitely made strong progress.
5 – ROCKED IT! Completed every goal set. Moved the needle exactly where I wanted it.
If you are just joining us, you may want to start HERE first and then follow the steps (posts) in order. It's never too late to start planning The Journey Ahead regardless of the date.
Reflect and Write.
Reflect on each area and write down how you did. Congratulate yourself on what you completed. Think about what stopped you from completing any goal that was not completed. Is that goal still important to you or have your priorities shifted?  If yes, then plan on adding it to your 2017 goals. If not, then let it go! For those that are coming over to 2017 – how will you overcome the challenges that stopped you from achieving them in 2016?
#MYJTC
I have a confession to make. I didn't have very clear goals to start 2016. No excuses, but I had a fairly major surgery the last week of 2015 and the recovery was a bit slow and took the better part of Jan – Mar 2016. I almost blocked that lack of goals from my mind until going through this step of the process and not finding the clear goals by convergence point in any of my 2016 journals.  I was attempting to measure my daily and weekly efforts toward each point without any clear goals.  WHAT WAS I THINKING!?
As you can see from the featured image I hand write this all into my journal. Yes, even the shapes and symbols. It is very relaxing and therapeutic for me to create in this way.  It will also be my reference tool for the year. You can download the worksheet for FREE HERE if you aren't big on doing this freestyle.
There are 8 different Convergence Points and you should spend at least 20 minutes per point totaling a little over 2.5 hours for this step. It may take more or less dependent on how much you write and how much you have to reflect on.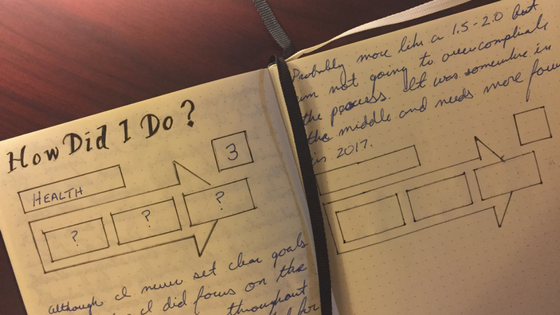 I will use HEALTH as an example from mine.
Although I never set clear goals for 2016, I did focus on the points of convergence throughout the year. I am very grateful for a successful recovery from surgery which would have certainly been my first goal for the year. The others would have certainly revolved around exercise discipline and controlling my blood sugar. Those will definitely be in my 2017 goals. Overall this area was a bit of a roller coaster. Hindsight being 20/20 I can attribute a good portion of that roller coaster to not having clear goals. Although I ranked my performance in this area for 2016 as a 3, its probably more like a 1.5 to 2.0 but I  am not going to over complicate the process. It was somewhere between stellar and not good and needs more focus in 2017.
STEP 2 DONE! Talk to you tomorrow with the next step.